Zhejiang Uniepu New Energy Co ltd
Name:Jussi Han
Department:Marketing Dept.
Position:Sales Manager
E-Mail:jussi@unipu.com
TEL:13157339394
Fax:86-573-86118006
Address:NO.1-8, YUCAI INDUSTRY ZONE ,TONGYUAN, HAIYAN, JIAXING, ZHEJIANG
7-Type High Pressure Galvanzied Steel Solar Water Heater 1.5mm Quality
7-Type High Pressure Galvanzied Steel Solar Water Heater 1.5mm Quality
Model NO. 7HP-58/1800-GI
Price:US $ 197.00-433.00 / sets
Minimum order quantity:20 sets
Accept Min order:No
Supply Ability:300 sets / Day
Country of Origin:China
Stock Time:20 Days
Basic Information
Type:Evacuated Tube
Pressure:Pressurized
Circulation Type:Direct / Open Loop (Active)
Heating System:Thermosyphon (Passive); Batch / ICS (Passive)
Connection Type:Direct-Plug
Installation:Freestanding
Housing Material:Other
Certification:GS; CSA; CE; UL
Capacity:150L/180L/200L/240L/300L
Place of Origin:China
Brand Name:OEM
Model Number:7HP-58/1800-GI
Product Description
Overview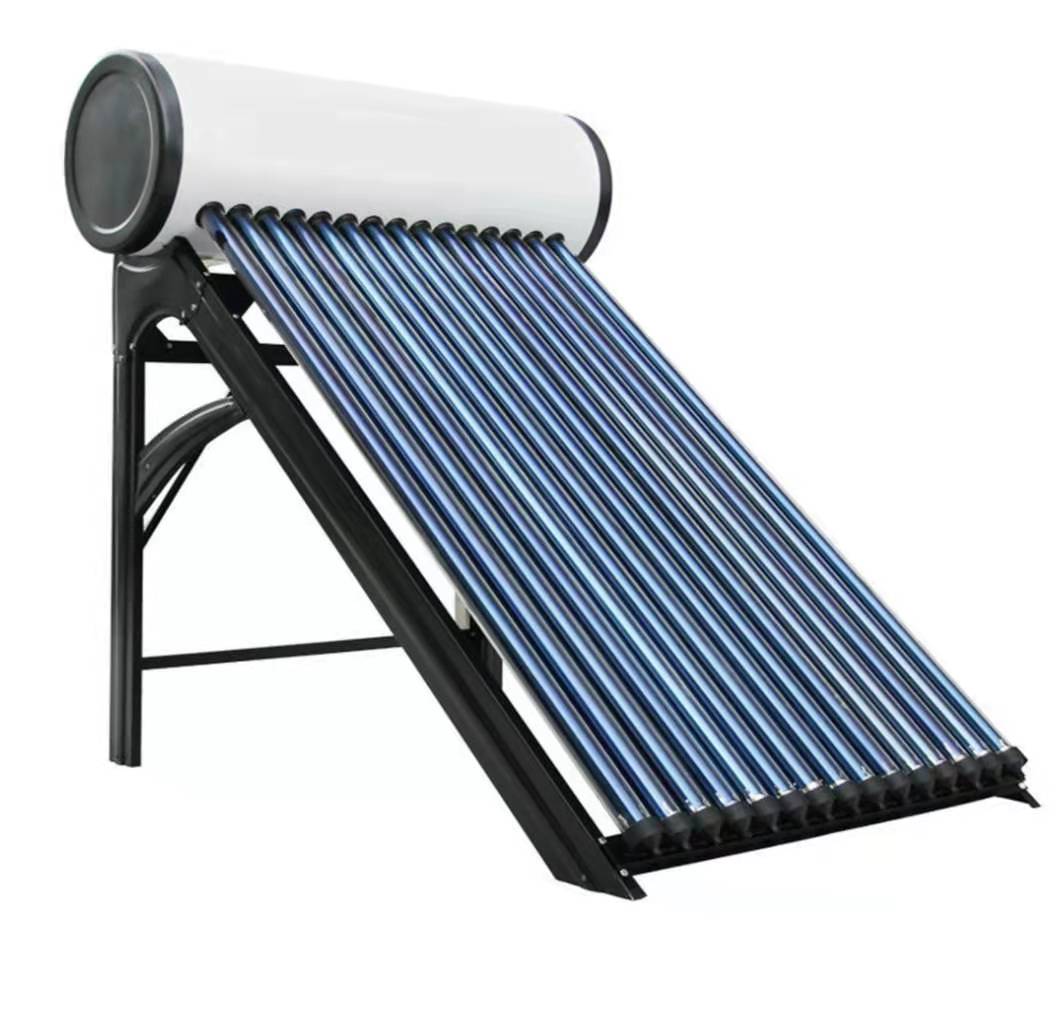 Product Info
| | | |
| --- | --- | --- |
| Model 1.2mm | Tank Capacity | QTY per 40HQ |
| 7HP 58/1800/10 GI | 150L | 129 |
| 7HP 58/1800/12 GI | 150L | 129 |
| 7HP 58/1800/15 GI | 150L | 129 |
| 7HP 58/1800/18 GI | 180L | 103 |
| 7HP 58/1800/20 GI | 200L | 99 |
| 7HP 58/1800/24 GI | 240L | 81 |
| 7HP 58/1800/30 GI | 300L | 66 |
Specification
| | |
| --- | --- |
| Inner tank: | 304-2B stainless steel (food grade), argon arc welding. thickness 1.2 mm. 360mm diameter |
| Outside tank: | Galvanized steel, Thickness: 0.31mm diameter 450/460mm |
| Insulation layer: | PUF polyurethane foam, 45/50mm thick, density: 35kg/m3 |
| Frame (like the photo above): | 7-type of galvanized steel, angle: 20/38/45 degrees. 1.5mm |
| Vacuum tube: | 58 / 1800mm, whole glass vacuum tubes adopt super hard borax and silica glass. Efficiency: 91% -94%, weight 1.95kgs with copper heat pipe |
| Inlet/Outlet: | Argon welding, standard male 3/4 'NPT nipple, one inlet, one outlet and one drain, one reserved for PT/Air valve. |
| Optional accessories (additional cost) | Magnesium bar, manual, logo printing on tanks, PT valve, Air valve, Check valve |
Working Principle
Pressurized solar water heater also called phase change thermal conductivity full pressure solar water heater is typically characterized by an enclosed heating unit containing copper tubes connected indirectly to a tank. . The phase change thermal conductivity collector is composed of vacuum tube, phase change heat pipe and heat transfer aluminum wing. Because of the threaded connection between the phase change heat pipe and the water tank, and there is no liquid in the vacuum pipe, it can withstand pressure.The high-pressure Direct Pressure Solar Water Heating System features evacuated tubes and heat pipes. The heat pipes absorbs solar energy and converts it into heat energy, this energy is then used in the process of heating water. There is no direct connection between the heating fluids in the copper tubes and the water being heated.Pressurized systems allow you to have a closed loop and a circulation pump so that the water in the pipes is constantly pumped through the solar collectors where the water gets hot, then around all the pipes so there is always hot water instantly at the tap.
---
Información del producto
| | | |
| --- | --- | --- |
| Modelo | Capacidad del tanque | QTY per 40HQ |
| 7HP 58/1800/10 GI | 150L | 129 |
| 7HP 58/1800/12 GI | 150L | 129 |
| 7HP 58/1800/15 GI | 150L | 129 |
| 7HP 58/1800/18 GI | 180L | 103 |
| 7HP 58/1800/20 GI | 200L | 99 |
| 7HP 58/1800/24 GI | 240L | 81 |
| 7HP 58/1800/30 GI | 300L | 66 |

Especificación
Tanque interior:

Acero inoxidable 304-2B (grado alimenticio), soldadura por arco de argón. espesor 1.2 mm. 360 mm de diámetro

Tanque exterior:

Acero galvanizado, Espesor: 0.31 mm de diámetro 450/460 mm

Capa de aislamiento:

Espuma de poliuretano PUF,

45/50mm de espesor, densidad: 35 kg/m3

Marco (como la foto de arriba):

7 tipos de acero galvanizado, ángulo: 20/38/45 grados. 1.5mm

Tubos de vacio:

58/1800 mm, los tubos de vacío de vidrio entero adoptan bórax superduro y vidrio de sílice. Eficiencia: 91% -94%, peso 1.95 kg con tubo de calor de cobre

Salida y entrada

Soldadura de argón, niple macho estándar de 3/4 'NPT, una entrada, una salida y un drenaje, uno reservado para PT / válvula de aire.

Accesorios opcionales (costo adicional):

Barra de magnesio, manual, impresión de logotipo en tanques, válvula PT, válvula de aire, válvula de retención
Principio de funcionamiento
Calentador de agua solar presurizado también llamado calentador de agua solar de presión total de conductividad térmica de cambio de fase se caracteriza típicamente por una unidad de calefacción cerrada que contiene tubos de cobre conectados indirectamente a un tanque. . El colector de conductividad térmica de cambio de fase está compuesto por un tubo de vacío, un tubo de calor de cambio de fase y un ala de aluminio de transferencia de calor. Debido a la conexión roscada entre la tubería de calor de cambio de fase y el tanque de agua, y no hay líquido en la tubería de vacío, puede soportar la presión. El sistema de calentamiento de agua solar de presión directa de alta presión cuenta con tubos de vacío y tuberías de calor. Los tubos de calor absorben la energía solar y la convierten en energía térmica, esta energía se utiliza luego en el proceso de calentamiento del agua. No existe una conexión directa entre los fluidos de calefacción en los tubos de cobre y el agua que se calienta.Los sistemas presurizados permiten tener un circuito cerrado y una bomba de circulación para que el agua de las tuberías se bombee constantemente a través de los colectores solares por donde llega el agua. caliente, luego alrededor de todas las tuberías para que siempre haya agua caliente al instante en el grifo.