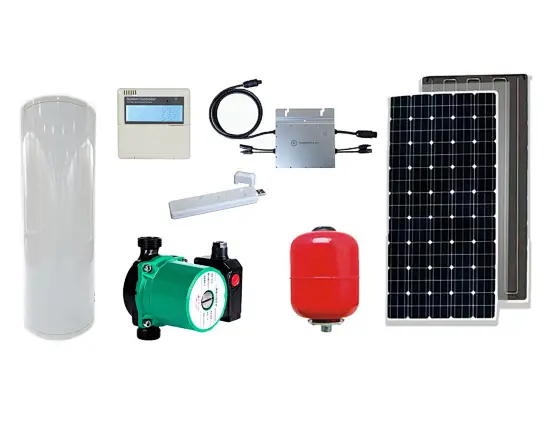 5.0KW PVT Hybird Solar Water Heater Project
System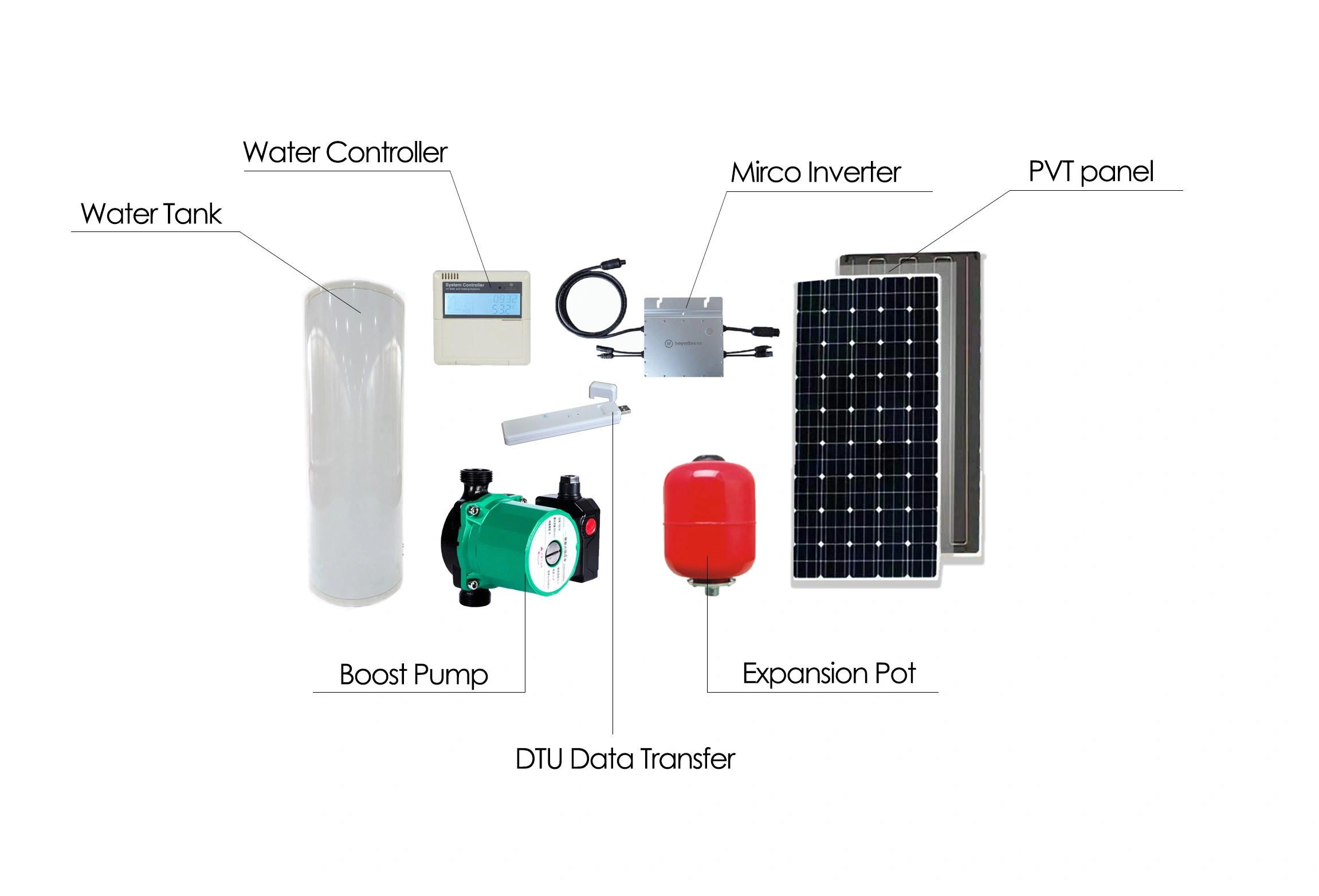 Package
| | | |
| --- | --- | --- |
| ITEM | SYSTEM SPECIFICATION | PCS |
| 1 | Hybrid PVT 450W With New Design Hot Water Pipeline | 10 |
| 2 | Structure for PV Panel | 10 |
| 3 | Mirco Inverter MI1200/1500 | 2 |
| 4 | Mirco Inverter MI600/700 | 1 |
| 5 | DTU W100 Data Transfer | 1 |
| 6 | Hot Water Controller SR81 | 1 |
| 7 | Boost Pump 328W 15m | 1 |
| 8 | Expansion Pot 30liter | 1 |
| 9 | Short Water Pipe 40cm and connector | 8 |
| 10 | Inlet/outlet Water Pipe 90cm and connector | 2 |
| 11 | 400liters Tank with back up heater (no coil inside ) | 1 |
Introduction
Our Solar PVT panel are designed to be used in a number of residential and commercial applications.Now is a great time to start minimizing your energy consumption, maximizing your savings, and providing your family with seamless backup power when you need it most. Our experts offer professional PVT integrated electricity hot water solar panel family solution.
For the home, a roof-top array can generate thermal energy to supply a family's hot water needs. It can also supply all the energy needed to supply an under-floor radiant heating system. If you own a boiler, our Solar PVT panel can supply up to 70% your existing boiler consumption needs. With the addition of a thermal storage unit, the energy generated by an Solar PVT panel array can be utilized any time; day, night or on cloudy days when the amount of available sunlight is limited. Solar PVT panel can be the foundation for a truly environmentally friendly home. Integrating a low temperature differential engine will put your home one step closer to energy independence. The energy provided by a PV-Thermal system will generate carbon free electricity, displace carbon-based heating fuels such as oil and natural gas and reduce your household's carbon footprint to a minimum.
System Features
Generate free electricity & hot water ,best of Both Worlds

Can combine with a heat pump

Green deal funding,Earn an income for all energy generated

Completely maximise the potential energy on your roof

More efficient than standard Solar PV as the panel is kept cool by the circulating water

Reduce carbon foot print
Characteristics & Performance
Use of only certified materials at highest quality standards.

The process of cell and module production is fully automated with 100% quality control and product traceability.

Excellent performances even during low solar radiation

Guaranteed positive tolerance 0 to +3% of power for each module
Typical PV VS UNIEPU PVT
Typical PV modules have a solar conversion efficiency up to 15%. What happens to the rest of the sun's energy that shines on the panels? Most of it is converted into heat energy, which normally is lost and provides no value to the system owner. As well, the heat build-up behind PV modules reduces the electrical output by 0.4-0.5% for every 1°C above its rated output temperature, which is 25°C (77°F). For every 1°C (1.8°F) above 25°C, the electrical output drops by 0.4 to 0.5 percent. A typical rooftop PV array may measure 55 to 75°C (131 to 167°F), which means its electrical output would fall by 12 to 25 per cent below the name plate rating. For example, a 10-kw array only generates 7.5 to 8.8 kW under these temperature conditions. Our PVT system lowers the photovoltaic temperature by 10 to 20°C (18 to 36°F), which increases the electrical output by five to 10 per cent, or an extra 0.5 to 1 kw for a 10-kw array.
---
Sistema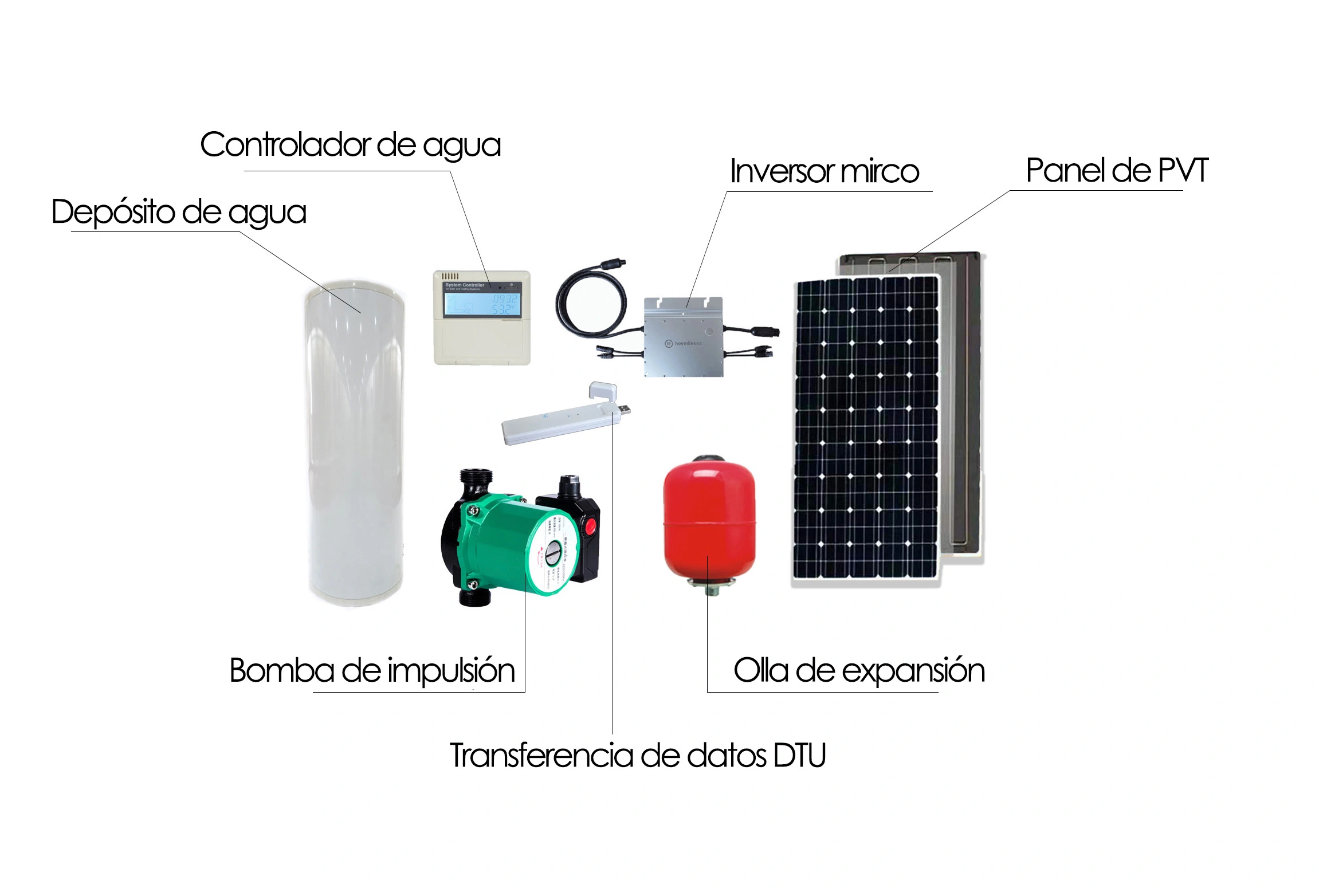 Paquete
| | | |
| --- | --- | --- |
| ARTICULO | ESPECIFICACIÓN DEL SISTEMA | PCS |
| 1 | PVT híbrido 450W con tubería de agua caliente de nuevo diseño | 10 |
| 2 | Estructura para panel fotovoltaico | 10 |
| 3 | Inversor Mirco MI1200 / 1500 | 2 |
| 4 | Inversor Mirco MI600 / 700 | 1 |
| 5 | Transferencia de datos DTU W100 | 1 |
| 6 | Controlador de agua caliente SR81 | 1 |
| 7 | Bomba impulsora 328W 15m | 1 |
| 8 | Olla de expansión 30 litros | 1 |
| 9 | Tubería de agua corta 40cm y conector | 8 |
| 10 | Tubería agua entrada / salida 90cm y conector | 2 |
| 11 | Tanque de 400 litros con calentador de respaldo (sin bobina en el interior) | 1 |

Introduction
Nuestro panel solar PVT está diseñado para ser utilizado en una serie de aplicaciones residenciales y comerciales. Ahora es un buen momento para comenzar a minimizar su consumo de energía, maximizar sus ahorros y brindar a su familia energía de respaldo sin interrupciones cuando más la necesita. Nuestros expertos ofrecen una solución profesional de la familia de paneles solares de agua caliente eléctrica integrada PVT.
Para el hogar, una matriz en la azotea puede generar energía térmica para satisfacer las necesidades de agua caliente de una familia. También puede suministrar toda la energía necesaria para alimentar un sistema de calefacción radiante por suelo radiante. Si posee una caldera, nuestro panel solar PVT puede satisfacer hasta el 70% de sus necesidades de consumo de caldera existentes. Con la adición de una unidad de almacenamiento térmico, la energía generada por una matriz de paneles solares PVT se puede utilizar en cualquier momento; de día, de noche o en días nublados cuando la cantidad de luz solar disponible es limitada. El panel solar PVT puede ser la base de un hogar verdaderamente ecológico. La integración de un motor diferencial de baja temperatura acercará su hogar a la independencia energética. La energía proporcionada por un sistema fotovoltaico-térmico generará electricidad libre de carbono, desplazará los combustibles de calefacción a base de carbono, como el petróleo y el gas natural, y reducirá al mínimo la huella de carbono de su hogar.
características del sistema
Genere electricidad y agua caliente gratis, lo mejor de ambos mundos

Puede combinarse con una bomba de calor.

Financiación del acuerdo ecológico, obtenga ingresos por toda la energía generada

Maximice completamente la energía potencial en su techo

Más eficiente que la energía solar fotovoltaica estándar, ya que el agua en circulación mantiene fresco el panel.

Reducir la huella de carbono
Características y rendimiento
Uso de solo materiales certificados con los más altos estándares de calidad.

El proceso de producción de células y módulos está completamente automatizado con un control de calidad del 100% y trazabilidad del producto.

Excelentes prestaciones incluso con baja radiación solar

Tolerancia positiva garantizada 0 a + 3% de potencia para cada módulo
PV típico VS UNIEPU PVT
Los módulos fotovoltaicos típicos tienen una eficiencia de conversión solar de hasta el 15%. ¿Qué sucede con el resto de la energía del sol que brilla en los paneles? La mayor parte se convierte en energía térmica, que normalmente se pierde y no aporta ningún valor al propietario del sistema. Además, la acumulación de calor detrás de los módulos fotovoltaicos reduce la salida eléctrica entre un 0,4 y un 0,5% por cada 1 ° C por encima de su temperatura de salida nominal, que es de 25 ° C (77 ° F). Por cada 1 ° C (1,8 ° F) por encima de los 25 ° C, la salida eléctrica cae entre un 0,4 y un 0,5 por ciento. Una matriz fotovoltaica típica en un techo puede medir de 55 a 75 ° C (131 a 167 ° F), lo que significa que su salida eléctrica caería entre un 12 y un 25 por ciento por debajo de la clasificación de la placa de identificación. Por ejemplo, una matriz de 10 kw solo genera de 7,5 a 8,8 kW en estas condiciones de temperatura. Nuestro sistema PVT reduce la temperatura fotovoltaica de 10 a 20 ° C (18 a 36 ° F), lo que aumenta la producción eléctrica entre un cinco y un 10 por ciento, o entre 0,5 y 1 kw extra para una matriz de 10 kw.