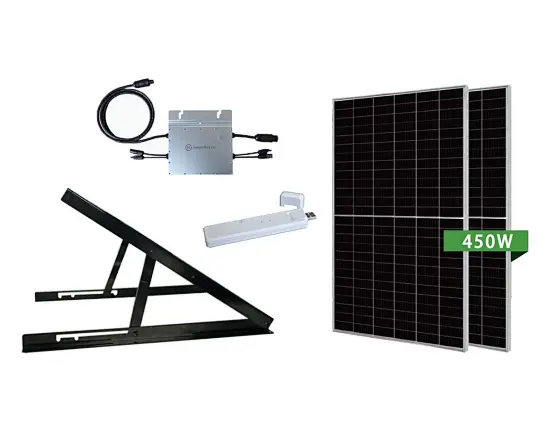 3.3KW PV Solar Panel Project
System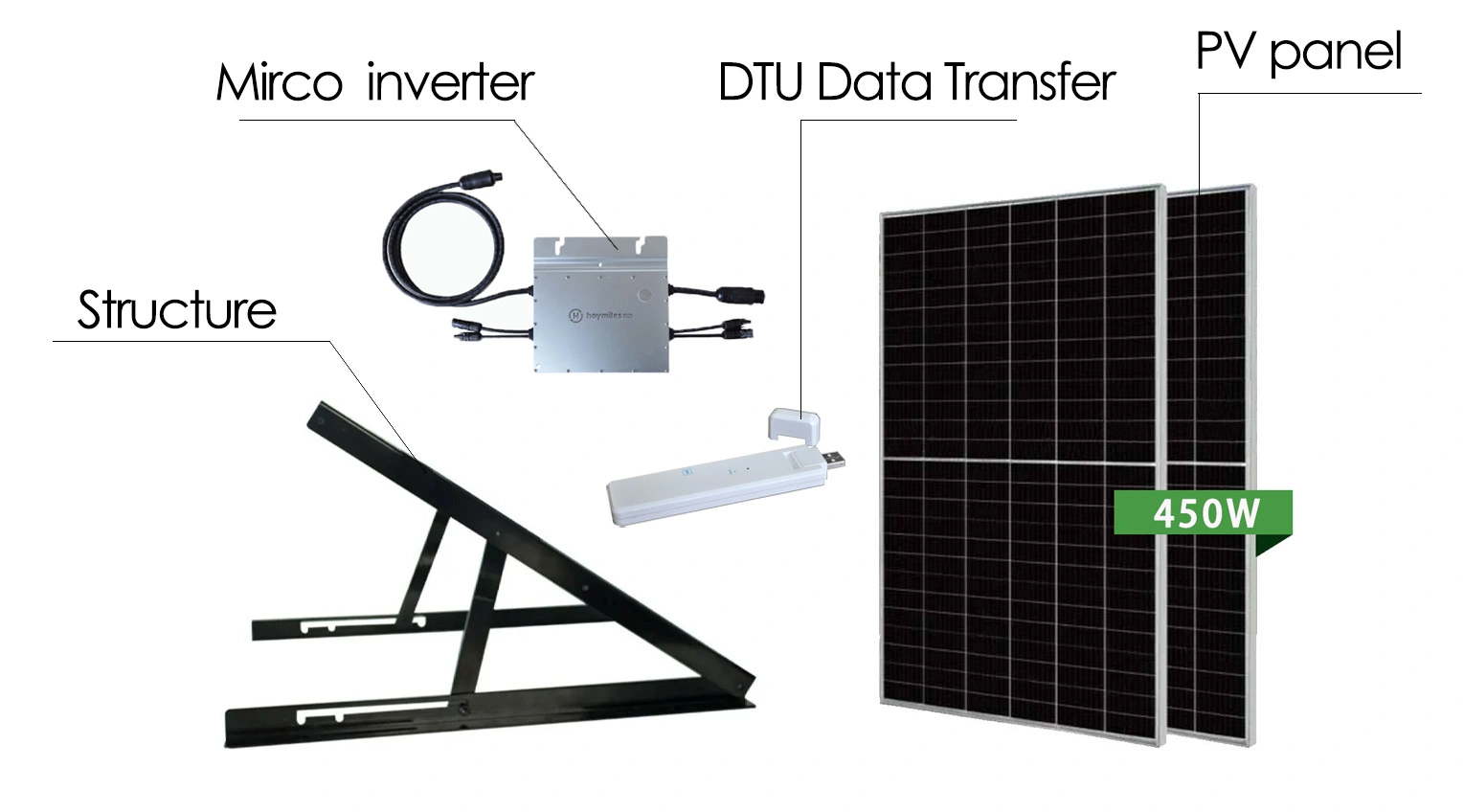 Package
| | | |
| --- | --- | --- |
| ITEM | SYSTEM SPECIFICATION | PCS |
| 1 | Solar Photovoltic Panel 450W | 6 |
| 2 | Structure for PV Panel | 6 |
| 3 | Mirco Inverter MI1200/1500 | 1 |
| 4 | Mirco Inverter MI600/700 | 1 |
| 5 | DTU W100 Data Transfer | 1 |
Introduction
Our The family Kit is designed for customers who are new to solar or are looking to expand on an existing power system. The 450W Monocrystalline family Kit is ideal for several off-grid applications, including RVs, trailers, boats, sheds, and cabins — providing many benefits, including, but not limited to, quiet power production and grid independence. Incorporating a small off-grid system can give you greater travel independence, as you can charge your most important small electronics without having to resort to a noisy gas generator or electrical outlet.
Key Features
Efficient High solar cell efficiency: Monocrystalline 21%

Reliable EL tested solar modules; no hot-spot heating guaranteed

Corrosion-resistant aluminum frame for extended outdoor use, allowing the panels to last for decades

Mirco Inverter: is ready to use.

Safe: Itis equipped with multiple electronic protections; overcharging, overload, short-circuit and reversed polarity

Expandable: you can expand your system up to a maximum of 5000W, is the perfect solution for future expansion
Typical PV VS UNIEPU PV
Typical PV modules have a solar conversion efficiency up to 15%. What happens to the rest of the sun's energy that shines on the panels? Most of it is converted into heat energy, which normally is lost and provides no value to the system owner. As well, the heat build-up behind PV modules reduces the electrical output by 0.4-0.5% for every 1°C above its rated output temperature, which is 25°C (77°F). For every 1°C (1.8°F) above 25°C, the electrical output drops by 0.4 to 0.5 percent. A typical rooftop PV array may measure 55 to 75°C (131 to 167°F), which means its electrical output would fall by 12 to 25 per cent below the name plate rating. For example, a 10-kw array only generates 7.5 to 8.8 kW under these temperature conditions. Our PVT system lowers the photovoltaic temperature by 10 to 20°C (18 to 36°F), which increases the electrical output by five to 10 per cent, or an extra 0.5 to 1 kw for a 10-kw array.
---
Sistema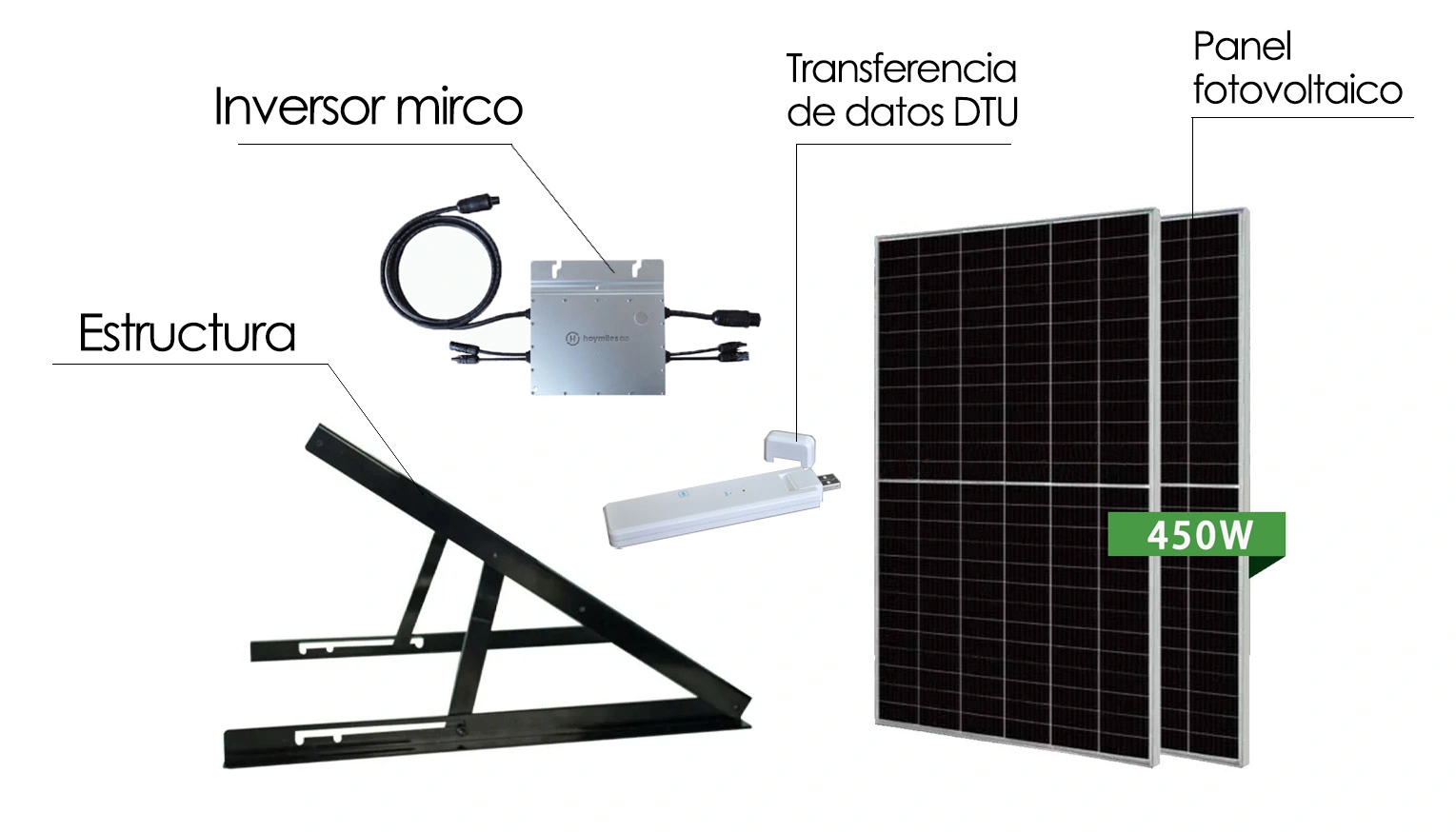 Paquete
| | | |
| --- | --- | --- |
| ARTICULO | ESPECIFICACIÓN DEL SISTEMA | PCS |
| 1 | Panel Solar Fotovoltaico 450W | 6 |
| 2 | Estructura para panel fotovoltaico | 6 |
| 3 | Inversor Mirco MI1200 / 1500 | 1 |
| 4 | Inversor Mirco MI600 / 700 | 1 |
| 5 | Transferencia de datos DTU W100 | 1 |
Introduction
Nuestro kit familiar está diseñado para clientes que son nuevos en la energía solar o que buscan expandirse en un sistema de energía existente. El kit familiar monocristalino de 450 W es ideal para varias aplicaciones fuera de la red, incluidos vehículos recreativos, remolques, botes, cobertizos y cabañas, lo que brinda muchos beneficios, que incluyen, entre otros, producción silenciosa de energía e independencia de la red. La incorporación de un pequeño sistema fuera de la red puede brindarle una mayor independencia de viaje, ya que puede cargar sus pequeños dispositivos electrónicos más importantes sin tener que recurrir a un generador de gas ruidoso o un tomacorriente.
Características clave
Eficiente Alta eficiencia de la célula solar: monocristalino 21%

Módulos solares confiables probados por EL; sin calefacción de puntos calientes garantizada

Marco de aluminio resistente a la corrosión para uso prolongado en exteriores, lo que permite que los paneles duren décadas

Inversor Mirco: está listo para usar.

Seguro: Está equipado con múltiples protecciones electrónicas; sobrecarga, sobrecarga, cortocircuito y polaridad invertida

Ampliable: puede ampliar su sistema hasta un máximo de 5000W, es la solución perfecta para futuras ampliaciones
PV típico VS UNIEPU PV
Los módulos fotovoltaicos típicos tienen una eficiencia de conversión solar de hasta el 15%. ¿Qué sucede con el resto de la energía del sol que brilla en los paneles? La mayor parte se convierte en energía térmica, que normalmente se pierde y no aporta ningún valor al propietario del sistema. Además, la acumulación de calor detrás de los módulos fotovoltaicos reduce la salida eléctrica entre un 0,4 y un 0,5% por cada 1 ° C por encima de su temperatura de salida nominal, que es de 25 ° C (77 ° F). Por cada 1 ° C (1,8 ° F) por encima de los 25 ° C, la salida eléctrica cae entre un 0,4 y un 0,5 por ciento. Una matriz fotovoltaica típica en un techo puede medir de 55 a 75 ° C (131 a 167 ° F), lo que significa que su salida eléctrica caería entre un 12 y un 25 por ciento por debajo de la clasificación de la placa de identificación. Por ejemplo, una matriz de 10 kw solo genera de 7,5 a 8,8 kW en estas condiciones de temperatura. Nuestro sistema PVT reduce la temperatura fotovoltaica de 10 a 20 ° C (18 a 36 ° F), lo que aumenta la producción eléctrica entre un cinco y un 10 por ciento, o entre 0,5 y 1 kw extra para una matriz de 10 kw.