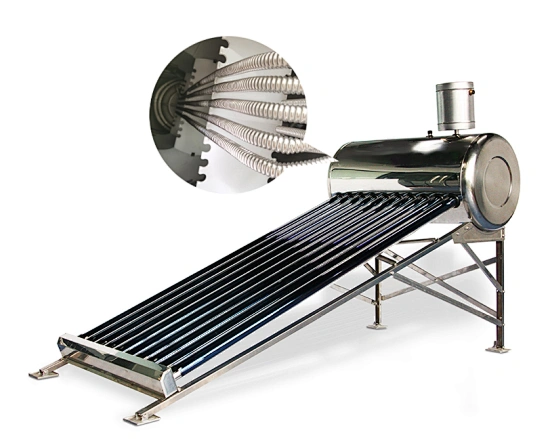 UNP-P02 Stainless Steel Coil Solar Water Heater U Frame 0.41mm
US $128.00 - US $269.00
/ sets
Overview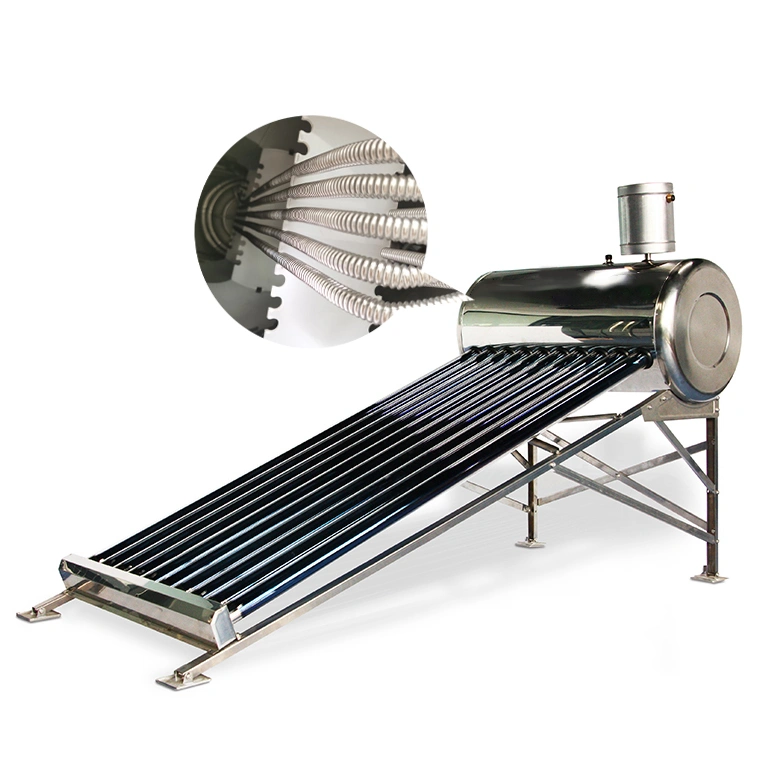 Product Info
| | | |
| --- | --- | --- |
| Model(SUS) | Tank Capacity | Quantity/40HQ |
| UNP-P02-10 | 100L | 172 |
| UNP-P02-12 | 120L | 143 |
| | 150L | 119 |
| | 200L | 84 |
| UNP-P02-30 | 300L | 58 |
---
Working Principle
1. For water in the main tank, the principle is the same as the non-pressure solar collector:
All-glass evacuated tubes absorb and transfer sun energy into heat energy, then heat water inside vacuum tubes. A cycle can be created in the tube in which hot water ascends and cold water descending status. Keeping natural circulation like this, the water in the tank becomes hotter and hotter.
2. For water in the sus coil:
When cold water flows through the coil it absorbs heat from the water inside the pre-heating tank. And the water we actually use is the water in the sus coil, which means it is freshwater (there is no pollution in the water). Due to the original feature of the sus coil, the water temperature of the outlet is close to the water temperature of the water tank(difference within 3-degree centigrade). Therefore, cold water flow via a sus coil and absorbs heat, when water flows past the outlet, the temperature is usually hot enough to use.
---
Advantages
1. Patent reserved for stainless steel water tank and coil installation way, coil resistance a high water pressure inside.
2. 60% efficiency higher than traditional non pressure systen with specific technology and complete sealing design,maximum heat can be stored into the water box.
3. The water you actually using is the water in the sus coil. It ensures fresh water for the shower.
4. Easy installation, could be installed on the roof with any slope, on the balcony, or hung on the wall.
5. With the assistant tank, cold water feeds automatically. Prevent the water in the water tank from evaporating to dryness.
---
Details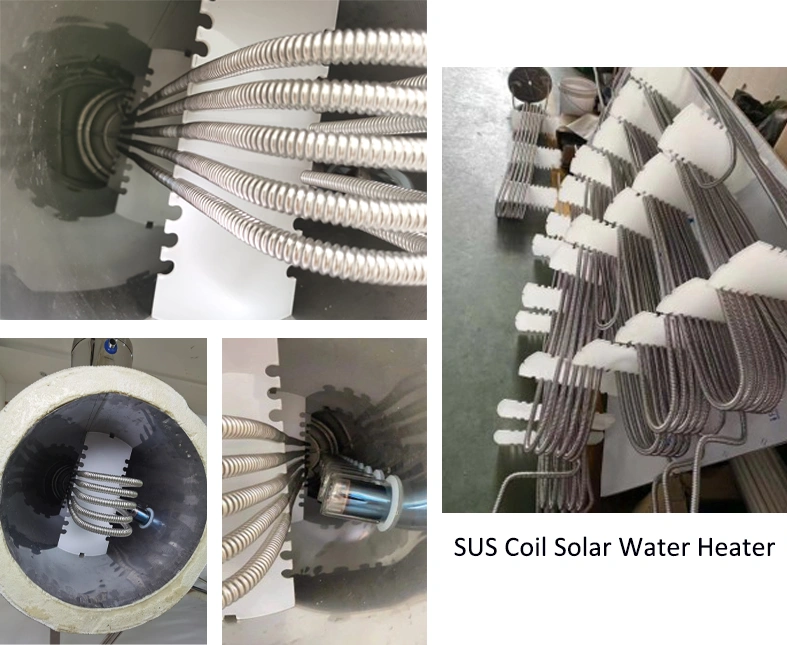 ---
Información del producto
| | | |
| --- | --- | --- |
| Modelo | Capacidad del tanque | Cantidad/40HQ |
| UNP-P02-10 | 100L | 172 |
| UNP-P02-12 | 120L | 143 |
| | 150L | 119 |
| | 200L | 84 |
| UNP-P02-30 | 300L | 58 |
---
Principio de funcionamiento
1. Para el agua en el tanque principal, el principio es el mismo que el del colector solar sin presión:
Los tubos de vacío de vidrio absorben y transfieren la energía solar en energía térmica y luego calientan el agua dentro de los tubos de vacío. Se puede crear un ciclo en el tubo cuyo estado de agua caliente ascendente y descendente de agua fría. Manteniendo una circulación natural como esta, el agua en el tanque se vuelve cada vez más caliente.
2. Para agua en la bobina de suspensión:
Cuando el agua fría fluye a través del serpentín, absorbe el calor del agua dentro del tanque de precalentamiento. Y el agua que usamos en realidad es el agua en la bobina de suspensión, significa que es el agua dulce (no hay contaminación en el agua). Debido a la característica original de la bobina sus, la temperatura del agua de la salida está cerca de la temperatura del agua del tanque de agua (diferencia dentro de los 3 grados centígrados). Por lo tanto, el agua fría fluye a través de sus serpentines y absorbe mucho calor, cuando el agua pasa por la salida, la temperatura suele ser lo suficientemente alta como para usarla.
---
Ventajas
1. Patente reservada para tanque de agua de acero inoxidable y forma de instalación de la bobina, resistencia de la bobina a alta presión de agua en el interior.
2. Eficiencia del 60% más alta que la del sistema sin presión tradicional con tecnología específica y diseño de sellado completo, el calor máximo se puede almacenar en la caja de agua.
3. El agua que realmente usa es el agua en la bobina de suspensión. Asegura agua dulce para la ducha.
4. Fácil instalación, se puede instalar en el techo con cualquier pendiente, en el balcón o colgado en la pared.
5. Con el tanque auxiliar, el agua fría se alimenta automáticamente. Evite que el agua en el tanque de agua se evapore hasta secarse.